July 07, 2022
NORTH VANCOUVER
"Home buyers have more selection to choose from and more time to make decisions than they did over the past year," Daniel John, REBGV Chair said. "Rising interest rates and inflationary concerns are making buyers more cautious in today's housing market, which is allowing listings to accumulate." 
Fair enough.. but new listings count is also accumulating as older listings "relist" at newer prices or simply a refresh on the MLS system. These numbers occasionally can double count listings from previous months back.
That said, here is the breakdown in North Vancouver. Similar breakdowns can be made available for other regions, if any of my readers prefer, just sent me an email.
NORTH VANCOUVER DETACHED
SALES
What you will see is a 5-yr low heading into these past few weeks (graphed as weekly sales volume)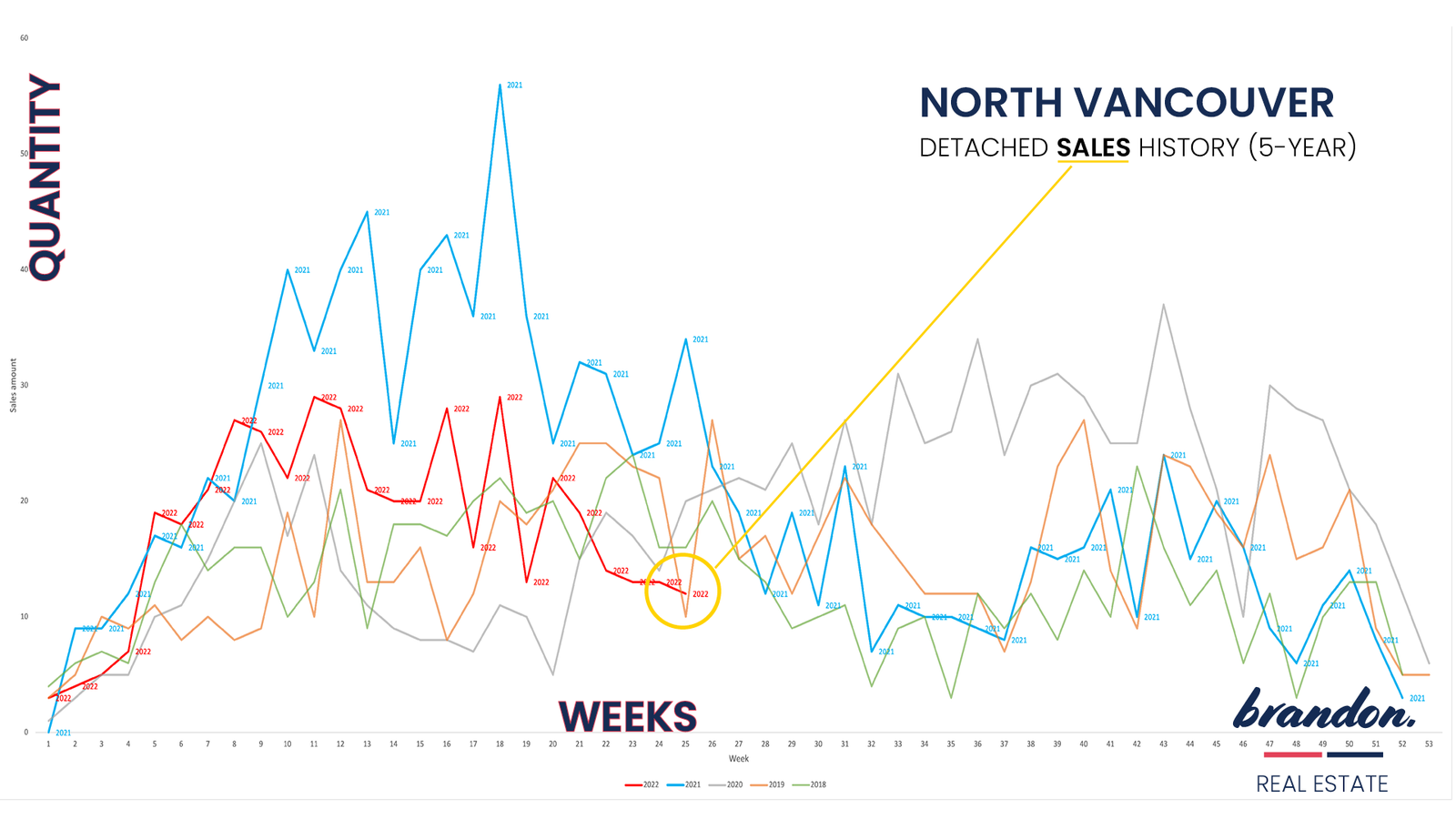 NORTH VANCOUVER DETACHED

NEW LISTINGS
You'll see an increase for the first time in 5-years the summer inventory has surpassed previous levels. This is largely due to relisting of homes that previously has not sold through. Often Summer's tend to be decreased activity in listings (as people begin holidays, etc) but this year is slightly different with rising interest rates and a majority of sellers still expecting the "froth" level prices on lower end detached homes.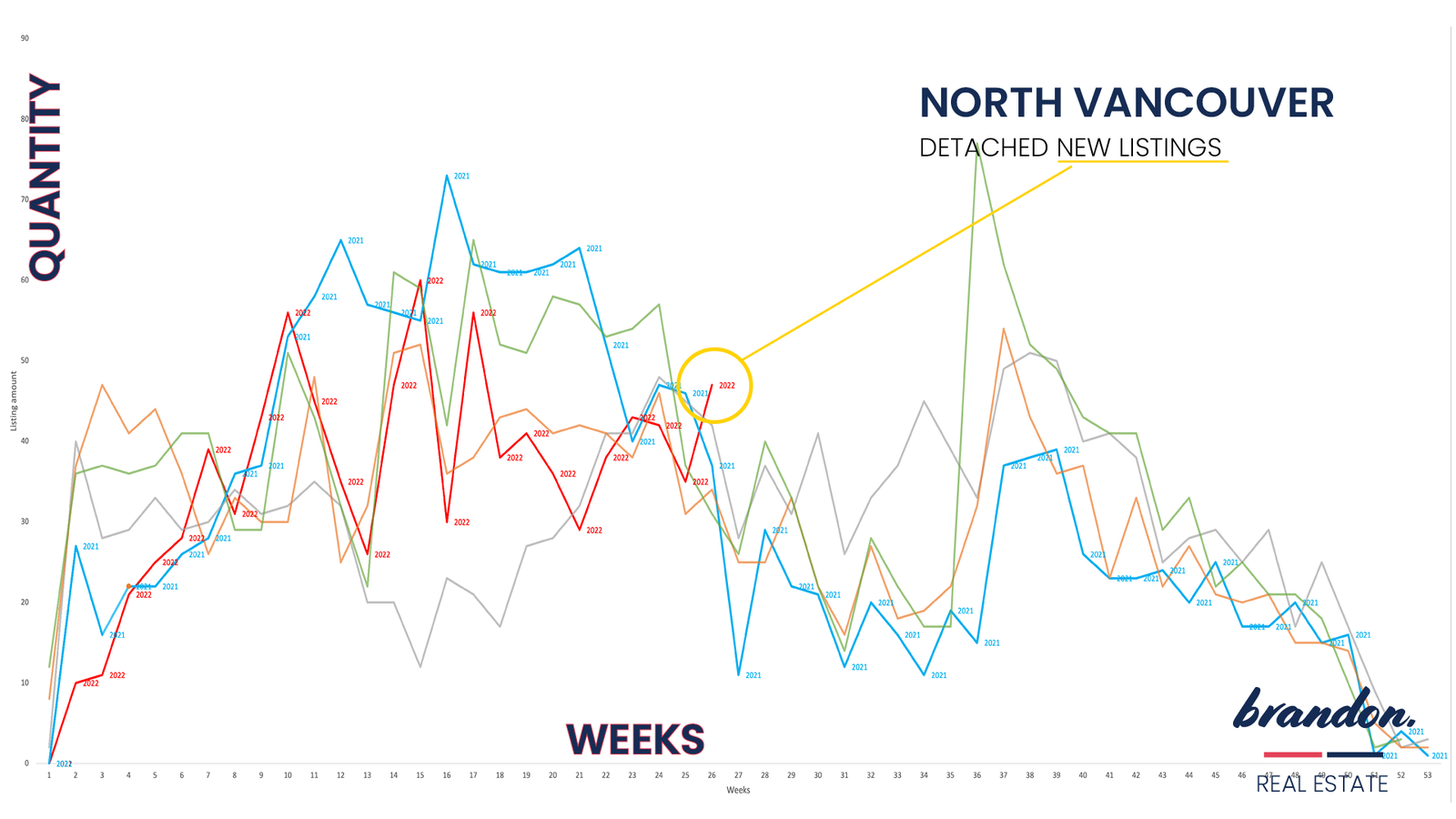 NORTH VANCOUVER ATTACHED

SALES
We may be off the pace of the last 2 years, but on average, we are actually outpacing previous "slower" years of 2018 and 2019 when we came off the "foreign tax upswing"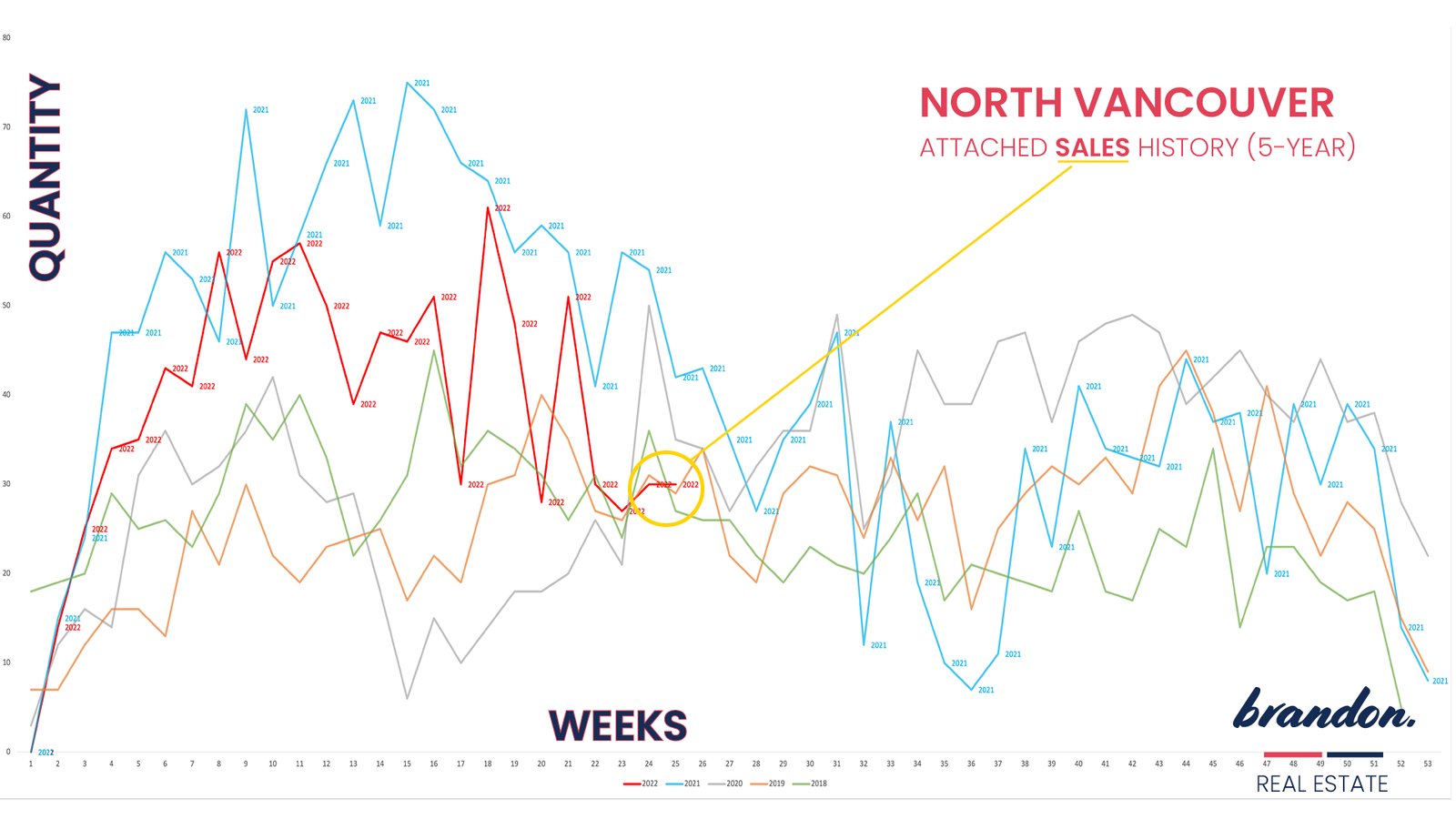 NORTH VANCOUVER ATTACHED
NEW LISTINGS
Similar to detached homes (new listings) we are still seeing increased level of listings in the last couple weeks. We are below the 2020 numbers, and those 2020 inventory counts were largely re-lists that came off the market in early 2020 when Covid was first announced. 
I expect to see "New Listings" climbing throughout the summer months, until interest rates settle in. I would imagine we would see some sellers that are required to sell their properties, perhaps relist (new listing) at lower prices as higher interest rates seem to effect the attached 1 bedroom market the most with qualifications perhaps being the toughest for new entrants.