Let's talk about numbers, before the Real Estate Board of Greater Vancouver releases the sales data in the coming days. Here I quickly pull
Sales
and
Listing
data and compare that year-over-year (weekly numbers) to get a sense of activity.
First. Whenever you're looking at "This Months Sales" there will always be a lag of data unaccounted for, as homes last week were put under an offer (got an accepted offer) but has yet to transact on the MLS as officially "SOLD". You'll see that the final week (week 30) of July will account for "ZERO DATA" in my charts below, for this reason.
NORTH VANCOUVER | Detached homes and Attached homes
Yes interest rates are having an effect on overall sales volume. It's getting quieter out there as buyers hold back a bit and take longer to search for their home. I see this as a positive in the market at the moment, and this is happening across all regions (Not just a nature-loving North Shore phenomenon) and giving people a bit more of a "moment" to find their forever home. 
You can see the graph below illustrating RED LINE as 2022 into July. You'll see July numbers are following the lowest in July from the last 5 years. However, this also is effected by Covid, and the fact that many (many, many, many) people are out enjoying the nice weather and travelling. The last 10 days in North Van has felt like 1/2 the population is away. Traffic is down on the Upper Level HWY and overall Lonsdale has felt quiet. People are Away! This is a normal July-August where sales volume drops. 
PRICING IMPACT
 - I anticipate July numbers will see a drop of roughly 3-4% on overall pricing for the average home price. In North Vancouver, we've seen a clear example of:
a)
FINISHED, TURN KEY HOMES
, that require little-to-no-work are still selling in... surprisingly, multiple-offers.
b)
OLDER, 1960's-1980's
homes that are original condition and need big reno projects (without a suite) are very challenging an no longer get the "frothy market premium"
AUGUST IS AUGUST -
If you were in the midst of getting ready to list your home, my advice to all my clients, is Hold-Off. August, I feel, is going to be even slower. Why waste the momentum of a fresh new listing, on zero audience? September is a far better time to get your home on the market when families are back, kids are in school, and people have more of a "housing" mindset. Want more info on my "why?" contact me directly.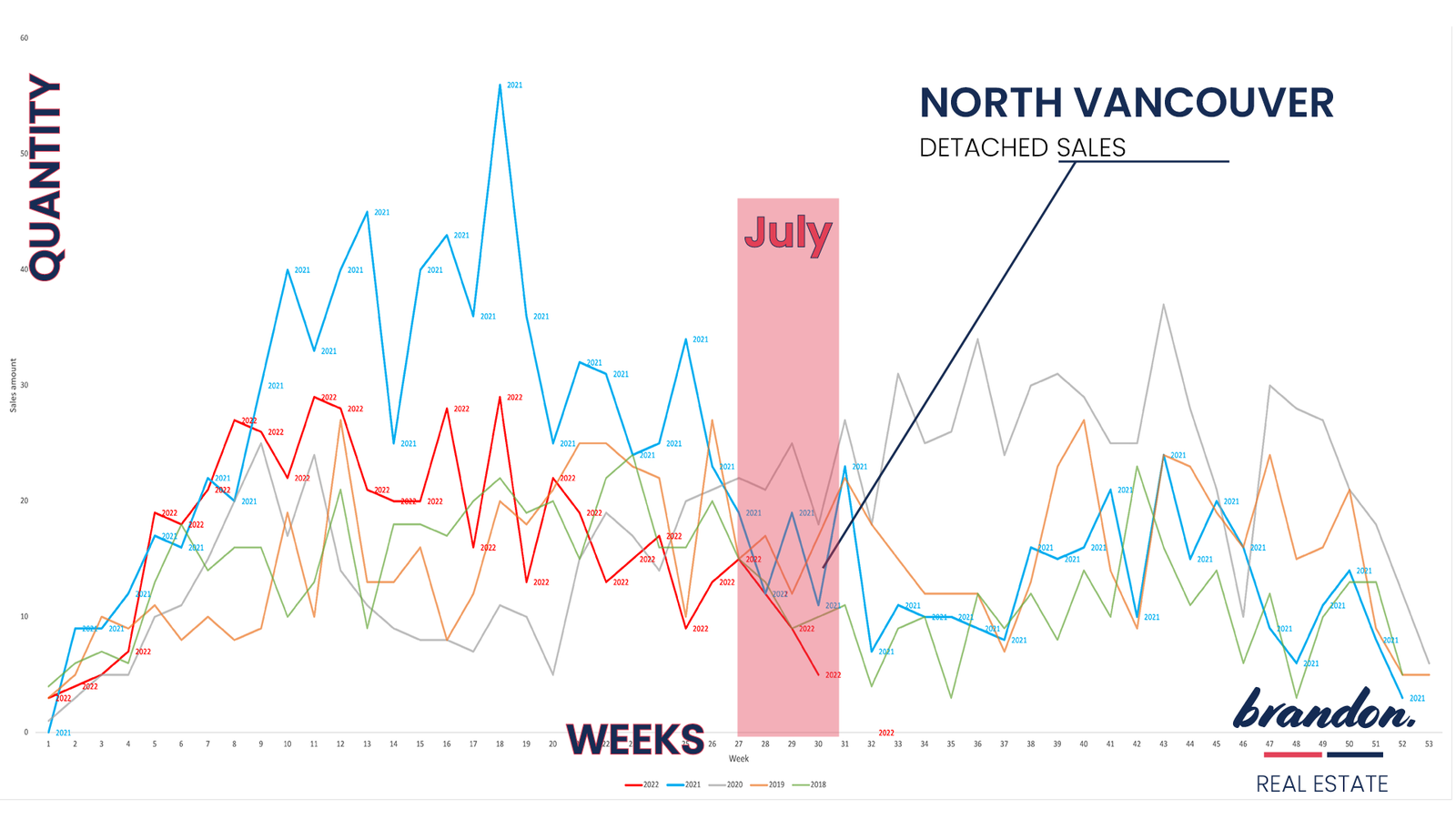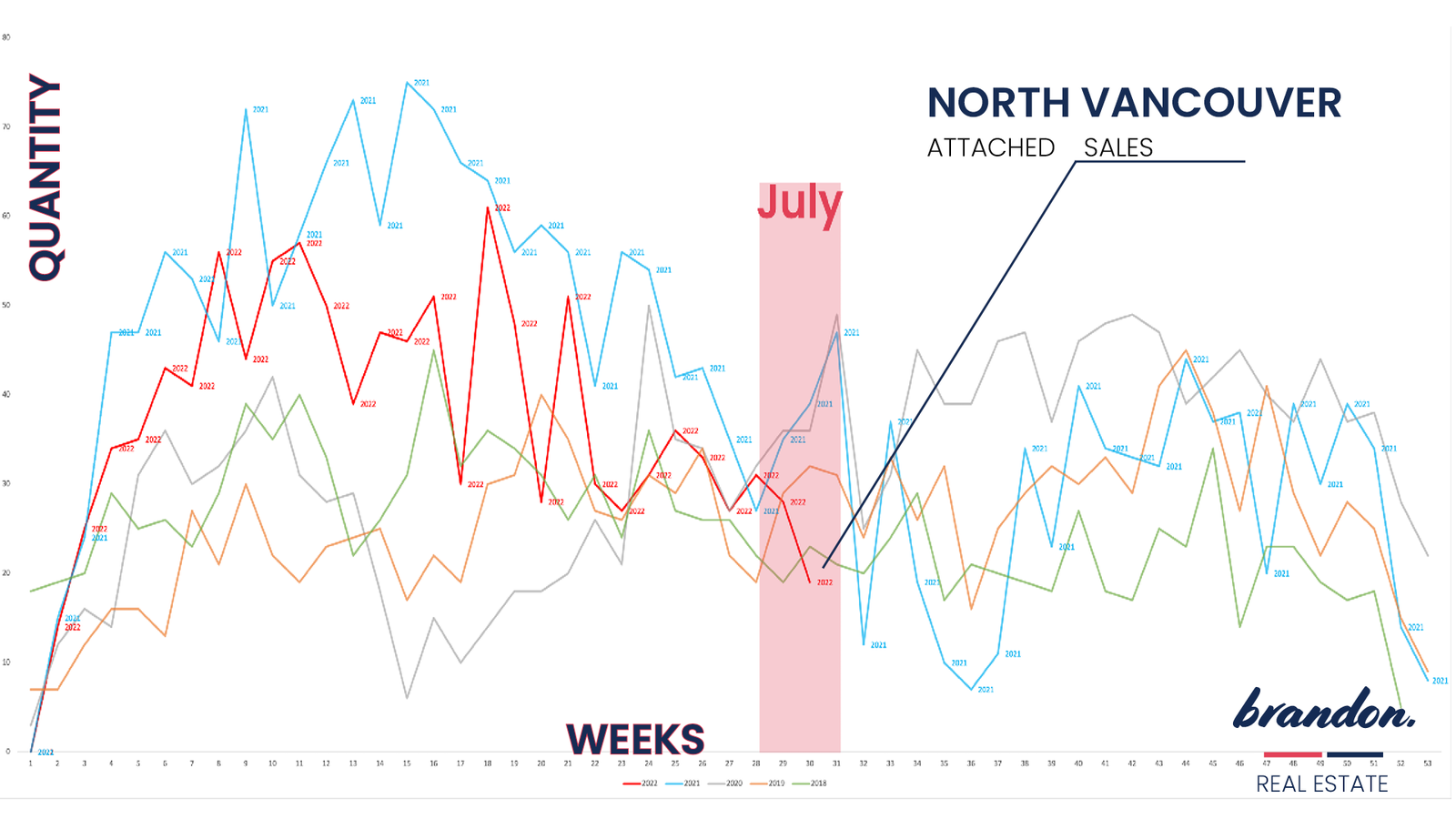 The interesting figure with "Listings Count" or volume, is that numbers of new listings are DOWN and this is with most of the new listings classified as
refreshed listings
 (Listings that have price reduced or cancelled and relisted to 'refresh' the listing). We see more of this today, then we have in the last 2 years. Therefore the numbers of new listings are actually significantly lower than when we look at 2020 and 2021 numbers (where re-listing a home was unheard of because they sold so fast).
Buyers have more time to shop for a home, but they are having less "great" product to choose from. This is why my above statement about "turn key, ready to go" homes sell so fast, and sometimes still in multiple offers.